PPC (pay-per-click) is one of the top-notch online advertising activities where businesses get instant traffic on targeted keywords and audiences. This model is acting under search engine marketing (SEM) to help the advertiser meet a huge ROImassiveeach click.
As per the survey, more than 65% of customers are using Google Ads while purchasing online shops, and no doubt, it could produce instant results. It plays a paramount role in digital marketing and business lead generation campaign, that is crucial for stepping up your business.
Why Google Pay-Per-Click? And How Can You Benefit?
Do you know the amazing incorporated with pay per click advertising?
Such an impressive platform allows you to achieve a different set of goals like website traffic, more visibility, increasing your conversions, and identifying new leads. Beyond these things, the foremost reason to go for a PPC ads Campaign to promote your business as you estimated. As you think, this is not so simple and easy to implement. You could have proper planning and preparation to meet the successful campaign, so beware of it.
It would be the best choice to stand out from your business competitors and make your platform noteworthy.
Things You Should Know before executing PPC Campaign:
Define Your Goals
Defining goals is probably the primary thing you could focus on for resulting in an effective campaign strategy. The new arrival of technologies has offered a plethora of PPC targeting options in GoogleAds that would instantly help you avail of your marketing needs. While stepping up to a new platform, creating your goals in advance will show you the right path and implement your business plans effectively. PPC marketing is ideal for: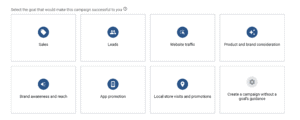 Improving brand awareness & Reach
Driving website traffic
Generate more leads
Increasing the sale
Local Store Visits & Promotions
The next step is to choose the campaign type, from Search, Display, Shopping, Video & Discovery Ads, by selecting the best goal that would make your business PPC campaign successful.
If your priority is meeting these goals, then use the PPC strategies to reach your target audience. The ads should be impressive and trustworthy to cover the users to boost up your business traffic than your competitors.
Check Search Volume With Keyword Research Tool
The foremost thing that you have to be evaluated is demanding keywords for meeting business goals and plans. Use a tool to avail a list of highly required keywords by the audience and how it is possible to reach the target. And make sure those are appropriate to reach the target audience in a specific location, whether it may become a city, country, global, state, etc. That can customize the data range as per your needs, so make it effective to drive more.
In-market Audience: Target the audience who keep on researching the products or services like yours. And they need to focus more to boost up your visitor's range as you have planned.
Affinity Audiences: You could also expand the audience range easily via the TV ad campaigns. Just use the keyword phrases, URLs, and types of places to generate custom affinity audiences in multiple categories.
Live Events: Feel free to access the Gmail and youtube platforms, which allow you to avail a wide range of users like getting married people, graduated students, and more.
Appropriate Keyword selection & targeting
A set of relevant keywords needs to be assigned for each ad group that helps the search engine know when and where to blink your SERP advertisement. As per the PPC rule, you could target multiple keywords based on what people are searching for your business. Before targeting keywords, the PPC Campaign manager should use keyword research tools like Google keyword planner, Ahrefs, or SEMrush.
Pick out the keywords with high priority, which are close to your theme and ad group as you know that the keywords play a crucial role in the search engine process and increase the value of your business and website ranking. So, do good research for finding the appropriate keywords regarding your ads.
Optimize Your Ad group, Ads & extensions
Once you have defined your target audience, go for the ad creation process relevant to your business. It is essential to serve the ads regarding the user's interest to get a more relevant click. Ads group will allow you to add a list of keywords and landing page URLs for your PPC ads campaign.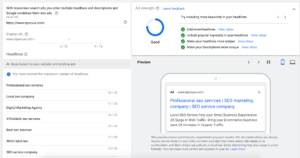 Creation and optimization are a high priority task to be focused on, which is the key to success. Another big next step is creating eye-catching ads for your campaign. Adding relevant keywords in the title & description will help you to get more clicks.
Also, google ads allow you to add additional extensions within your search ads, which helps businesses attract users with CTA text. You can use extensions like Sitelink, Callout, structured snippet & a few automated extensions from your website.
In between, it is quite mandatory to create min 3 ad variations & 1 Responsive search ads by using the search ads & extension in google ads that result in the best performance.
Identify Right PPC Bidding Strategy
The campaign strategies are vast; you could find the apt keywords and targeting features to achieve your goals. At this moment, a few basic metrics listed that should be considered while creating and displaying the ads.
Manual CPC: This strategy will allow you to set a manual bid on each targeted keyword within a different ads group along with the Max CPC strategy. Also, you can allow google ads to improve manual CPC for better results.
Conversions: Maximize conversion bidding strategy will help you to get a maximum conversion on your campaign. Let google algorithm decide the cost based on keywords, ads, and its quality score.
Impression Share: This bid strategy will use to get the most impression on the SERP page. where you can appear at the top of the results page, Absolute top of the results page, or anywhere in SERP
Conversion Value: Your PPC Campaign will use the Maximize conversion value bid strategy to help you get the most conversion value for your budget. Here, you can set a target return on ad spend (roas) on a percentage basis.
Bottom Lines
Want to create and post the ad successfully to market your business?
PPC Advertising is the most recommended thing in the digital marketing field that you would be considered. The article has also incorporated some essentials that help you derive your business and reach the target audience as you have estimated. And hope these things will let you know the valid information about PPC and it includes features.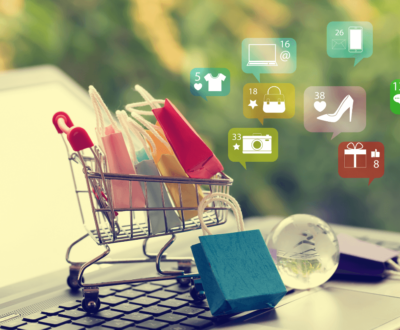 Are you prepared to dominate the online eCommerce space and realize the…